I have been out of theories. I don't know what's wrong with me. I'm always bursting with them. Whatever I'll rack my brain and come up with the rest of the month's. Today's (Sunday)
More Agathon Love: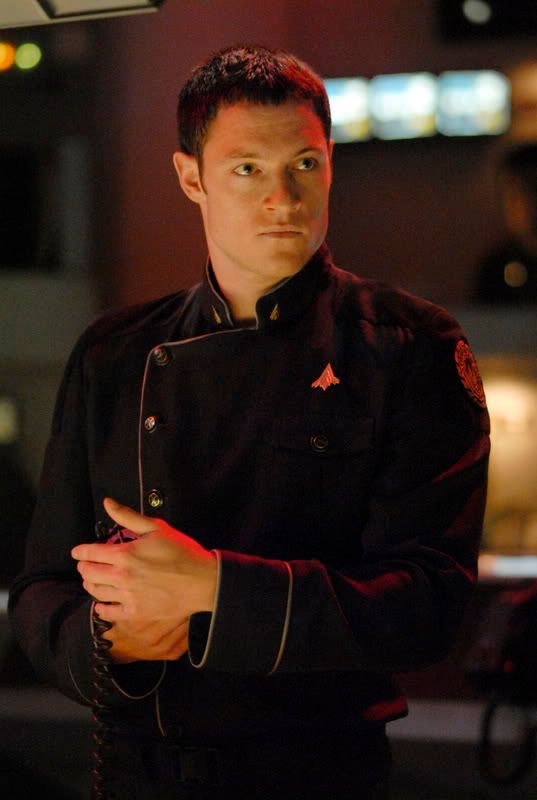 Because Let's face it, they need it. Those two kids are so damn in love and as much as I love "The Woman King" we need more Helo! More Athena too I guess. But What I really want is more Hera.
Yesterday's Ellen Tigh is really the Final Cylon.
That would be why Saul said: "What about Ellen?" in Crossroads. Because he knew, deep down. Also why they didn't have any kids.
And now for some FUN!
1. Your rock star name (first pet, current car): Blue (no car)
2. Your gangsta name (fave ice cream flavor, favorite type of shoe): Brownie Pump
3. Your Native American name (favorite color, favorite animal): Purple Lab
4. Your soap opera name (middle name, city where you were born): Brenna Medford
5. Your Star Wars name (the first 3 letters of your last name, first 2 of your first name): Abele
6. Superhero name (2nd favorite color, favorite drink): Black Tea or Black Milk. It's a toss up.
7. NASCAR name (the first names of your grandfathers): Robert John Steve. Yay! it works!
8. Stripper name (the name of your favorite perfume/cologne/scent, favorite candy): Vanilla Carmel
10. TV weather anchor name (your 5th grade teacher's last name, a major city that starts with the same letter): (I was homeschooled in the 5th grade so I'm going fourth) Gerard ????
11. Spy name (your favorite season/holiday, flower): St Patrick Daisy
12. Cartoon name: (favorite fruit, article of clothing you're wearing right now): Mango Shorts
13. Hippie name (What you ate for breakfast, your favorite tree): Milk Dogwood
Lee